"The opening bars of Verdi's Requiem have never been so palpably mournful as the May Festival Chorus intoned the words "Requiem aeternam" – eternal rest.
That emotional moment began a masterful, 90-minute journey that was both deeply personal and terrifying in its power. Making her festival debut, guest conductor Eun Sun Kim , 37, expertly balanced the forces of the 120-voice May Festival Chorus, a quartet of superb soloists, trumpeters in the gallery and the full Cincinnati Symphony Orchestra in a sweeping and incandescent performance of Verdi's Requiem.
The Cincinnati May Festival opened on Friday in Music Hall with many of its traditions in place – from herald trumpets in the lobby to the tiny flower children who delivered bouquets to the soloists.
It was the festival's first performance in Music Hall – originally built for the May Festival – since it reopened in October following a 16-month, $143 million renovation. In a dramatic touch, the chorus was hidden behind a curtain, which opened to applause just before the performance started.
Kim provided another remarkable first, as the first woman to conduct the acclaimed choral festival in its 145-year history. Stepping in for the disgraced James Levine, the Korean-born conductor has been making a name for herself in Europe, particularly on the opera stage. Cincinnati was just her second American appearance.
There is nothing like Verdi's Requiem Mass, which is regarded as operatic and theatrical. Yet Kim offered a fresh approach that also illuminated the deep spirituality of the work. She allowed the music to breathe, and the effect was riveting.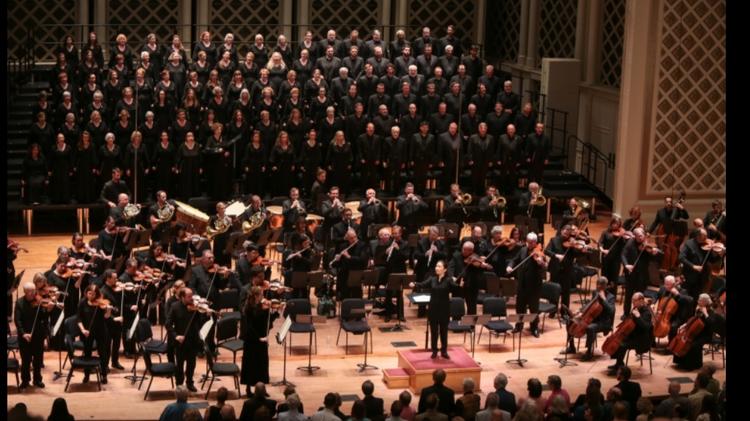 The "Dies Irae," with its spectacular pounding of the bass drum, was electrifying for its power and rage. Here, the choral sound was robust, with clipped enunciation, and the conductor led with driving tempos. The brass of the Cincinnati Symphony shone in the monumental "Tuba mirum," with the added glory of trumpeters stationed in the highest reaches of Music Hall.
Kim accompanied the soloists with complete flexibility, taking care to never overpower them. Soprano Michelle Bradley floated stunning high notes, yet she also had the power to soar over the work's biggest climaxes. Her greatest moment came in the "Libera me." The excellent mezzo-soprano Ekaterina Semenchuk made many beautiful contributions, joining with Bradley in a warmly sung "Recordare."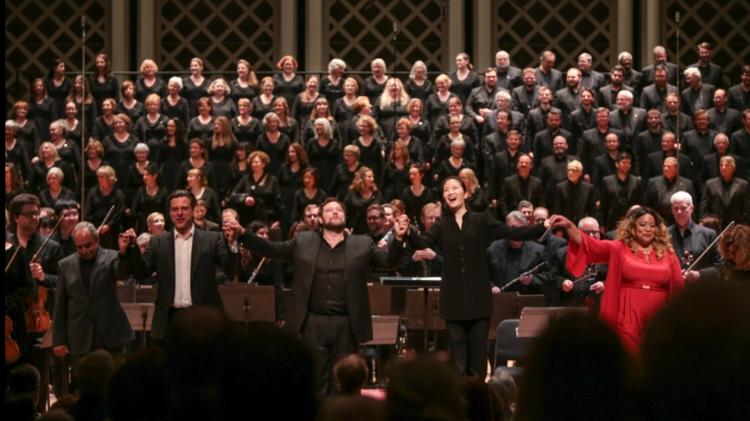 Tenor Bryan Hymel's initial tightness might be excused as he was a last-minute replacement for Matthew Polenzani, who canceled last week. Hymel communicated wonderfully in the "Ingemisco tamquam reus" (I groan like the sinner I am) and sang eloquently in "Hostias et preces" (Lord in praise). And bass soloist John Relyea was superb in "Confutatis," singing with expressive power and color, each word infused with drama.
On the podium, Kim was an inspiring leader with a commanding presence. Every gesture was clear and musical, and she propelled tempos to maximum dramatic effect. The orchestra performed magnificently, from the pianissimo (doubly soft) string tremolos in the "Offertorio" to the heaven-rending "Dies Irae.""